Spring is a wonderful time of year in the culinary world!  As each new year begins and the temperatures start to rise, we look forward to the beautiful new ingredients that we get to incorporate into our spring and summer menus. Warmer temperatures also mean lighter food-fare, so this gives us a chance to highlight vibrant greens like asparagus and cucumber, the earthy flavors of mushrooms and cauliflower, and the naturally sweet freshness of berries and melon coming in to season.  Fresh cilantro, basil, dill, mint, and other herbs are more readily available during these warmer growing seasons and are a great way to add another dimension of flavor to any menu.
Our Culinary Development Team at Brancato's has been ramping up for warmer weather with some new bites.  Here are a few of our favorites this spring!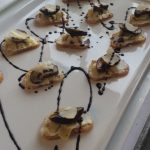 Our Roasted Crimini Crostini pairs a hearty mushroom with tangy goat cheese and artichokes. The whole bite is finished with shaved Asiago and balsamic glaze.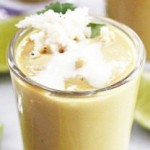 Avocados add a creaminess to traditional gazpacho and balance well with the clean cucumber, cilantro and tomato flavors. We like to add lump crab to our Avocado Gazpacho for a little something extra!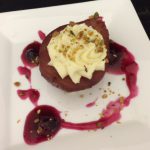 Pears are at their peak during the fall and winter but some varieties still have a small growing season in the spring. We've recently wowed some customers with a rich, yet light, dessert consisting of red wine poached pears and vanilla bean mascarpone. The pears poach just long enough to soak up the cinnamon and clove spices. Blueberry compote and crushed pistachios garnish the plate.