Fresh from the garden… Ideas for your summer tomatoes!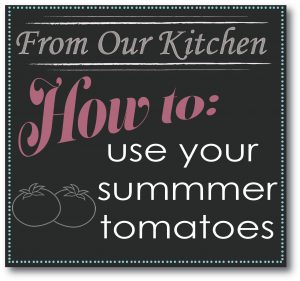 As summer comes to a close and kids head back to school, I can't help but reminisce about my own childhood summers in Wichita.  My siblings and I filled our summers with sports, swimming, biking, jumping on the trampoline, and, of course, hide and seek.  It was usually during the hiding that I would find myself crouched behind one of the many planters in my parents' garden; noshing on barely-ripened cherry tomatoes. It's these memories of sun warmed tomatoes, right off the vine, that get me geared up to incorporate this juicy summertime fruit into almost any dish that I can rationalize them being in.
When our culinary team develops new items and menus, we strive to keep up with the ever changing culinary industry.  We often search for new ways to manipulate our ingredients and present items in a way our customers have never experienced.  We use new found inspiration from literature, dining experiences, and even consultation from our industry peers.  However, some of our favorite items at Brancato's Catering have come from the collaboration of our childhood memories in the kitchen that honor the integrity of the ingredients and let the quality speak for itself.
Small bites are some of my favorite items to create.  I love mixing a mélange of flavors into the 'perfect bite'.  Each ingredient stands on its own, but they all come together to complement each other in the end.  A few of our summertime favorites have been our traditional Caprese Bruschetta and our 'classic with a twist' Pork Belly BLT.  Fresh heirloom cherry tomatoes pop with color from behind the balsamic glaze and extra virgin olive oil on this signature Italian favorite.