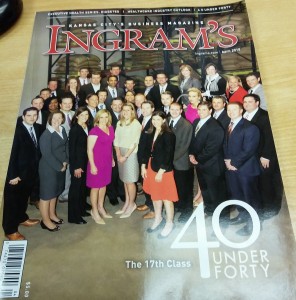 "Business isn't just business for Andrew Brancato- it's personal. The president of Brancato's Catering runs not only that operating unit, but is part of an executive team of three other thriving divisions, and the common denominator for all is family. 'Growing up in a family-owned business not only instilled the values of hard work, dedication and loyalty, but also galvanized my commitment to family, faith and community,' Brancato says."
 We are proud to congratulate our President, Andrew Brancato on being selected as one of Ingram's magazine's 40 Under Forty Class of 2015. We are honored to have him represent our team among the 39 other talented and successful professionals in this year's class. To be qualified for this honor, Andrew had to demonstrate innovation in his field, commitment to his team and dedication to his community. With this recognition, Andrew is joining an elite group of leaders who bring so much to the professional and civic communities of Kansas City.
On behalf of everyone at Brancato's Catering, we are thankful to have Andrew as a leader of our team and look forward to seeing how your vision for this company shapes our future!