It looks good enough to eat!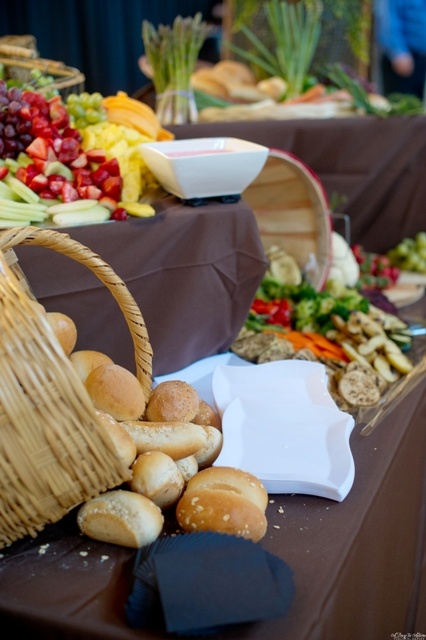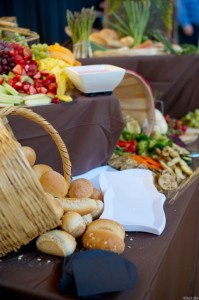 Have you ever been to an event and felt like you couldn't tell where the decor stopped and the food line started? Food service has come a long way from the days of simple, straight and standard buffet lines, we can now build elaborate, engaging and edible works of art that are appealing to your eyes as well as your taste buds.
There are several factors to consider when deciding how you want your food to be displayed. One of the biggest is theme. Does an elaborate sprawling display fit into your overall event theme or would a sleek modern look be better suited? If you are going for the grandiose, you would want the big display to highlight that, however if your look is more subdued, you would want to convey that in clean lines and simple structures.
Another factor that plays into theme is decor. What textures, materials and colors are already present that can be incorporated into your concept?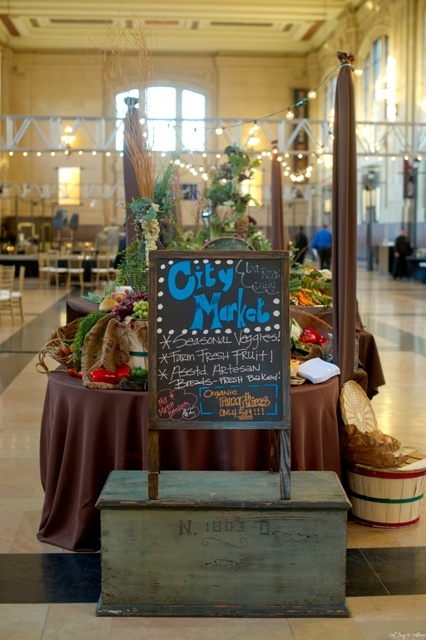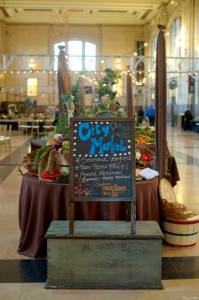 Considering what exists can be useful to create a seamless, cohesive look to your display. It also would not make sense to have a soft floral display at an event that is highlighting raw materials and hard edges.
From an execution stand-point, space is one of the biggest factors your caterer will consider.
Do we need to go up or out when building your display? We want to make sure we can fit what we want to do where it needs to go. Your display wouldn't have the impact you want if it is dwarfed by the venue; it also would run the risk of becoming overbearing if it is too large in the space you are utilizing.
Will your venue be indoors or out? We would want to think very carefully about incorporating a tall display that has a chance of toppling over when a gust of wind comes through at your outdoor event.
We also need to consider temperature of the product with regard to location. For example, we can create beautiful and elegant food displays on marble slabs however those slabs hold temperature very well. We would want to plan accordingly to cool or warm the marble to accommodate the product it will hold.
Finally, another element to consider would be accessibility. Obviously, your guests have to be able to get to the food in order to enjoy it while your caterers will need to be able to easily access the display to replenish the items.
If executed correctly, food displays can not only enhance an event but can also be a showpiece that makes your event the talk of the town. If you are looking to add the impact of a custom designed food display to your next event, we have just the team to help with the planning and implementation to ensure flawless execution. Just give us a call and we can help your vision come to life!