Manhattan Kansas Wedding – K-State Alumni Center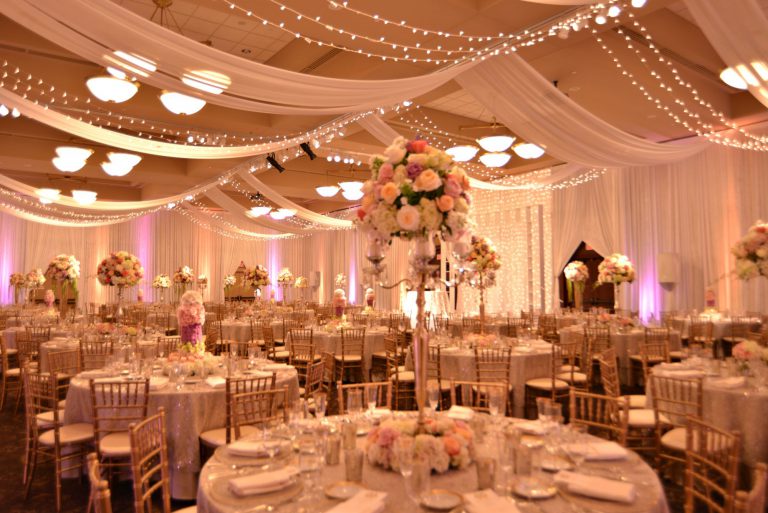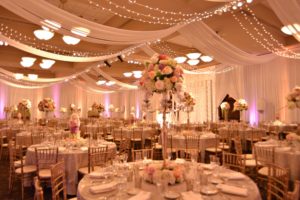 Sitting back at my desk I am now able to collect my thoughts, decompress, and revel in the accomplishments of our company.
It was a lot of fun being able to go back to my Alma Mater to execute an event of this size.
I am so proud of our catering and rental team in their ability to come together to accomplish what was one of the largest and most logistically challenging weddings we have executed.
Some of the challenges we faced:
While installing we learned that the parking lot where we were building a mega ballroom was not owned by the Kansas State Alumni Center. Since it was not owned by the alumni center it then fell under the jurisdiction of the University, which has a different set of fire inspectors and controllers. The fire inspectors checked on us daily to deliver us with changes that would need to be made in order to meet their certification. This involved bringing in extra exit doors, building extra ramps, adding extra tents, and moving stored equipment.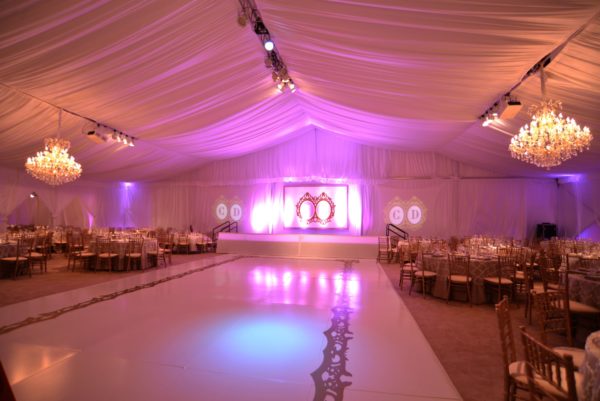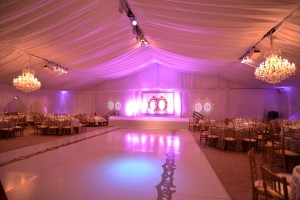 The tent was an 82 x 100 clearspan dressed with a liner. We built our liner to fit the tent based on the placement of the lighting trusses that were specified for us. After the trusses had been placed and the liner was installed on Thursday we learned that the trusses were in fact not in the place they were originally intended to be. We had to react quickly and send in a team of sewer's and sewing machines to remove the liner on Friday, re-sew it, and re- install it. They also had to manufacture several new liners for smaller tents that needed to be added to appease the fire inspector.
Weather- after working from 7am to 11:45pm on Thursday we woke up to find that a middle of the night a storm packing a 50 mph punch had collapsed two auxiliary tents that would house additional seating and bars. New tent tops and pipes were rushed from Kansas City to be installed and not stall our production timeline. We also had to purchase several shop vacs and air movers to dry the wet carpet.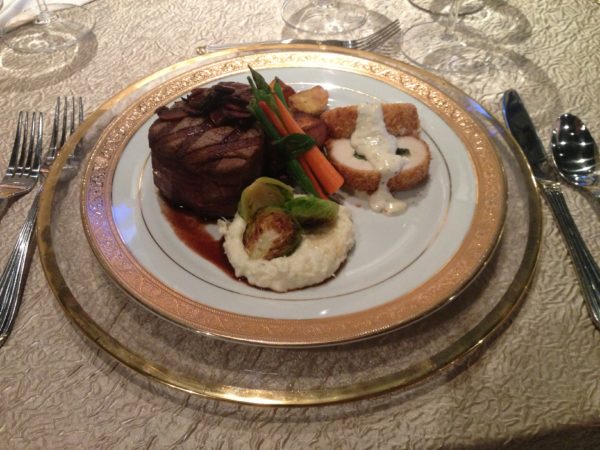 Space- Serving a 7 course dinner to 900 people from a space that was built to hold 300 posed many challenges of its own. The prep spaces, back of houses, and service areas were all very tight and cramped, making the execution that much harder. And not to forget the appetizer reception, after party, and brunch the next day.
Location of Kitchen – We were able to put our mobile kitchens to the test as we had to set up our commissary at Phi Delta Theta fraternity about one mile from the Alumni Center.
Overcoming the obstacles:
Months of planning, countless production meetings, endless checklists, and AMAZING staff allowed us to overcome all of these obstacles to make this wedding an extreme success. We went as far as adding redundant power to ensure that if one generator were to fail it would immediately switch to another generator and not affect the party.
There will be more to come in my next blog…
Here are some photos of our work: